Bharti Telecom Ltd, the promoter of Bharti Airtel Ltd, has sold a 2.75% stake in the telecom operator for a total of ₹8,433 crore, or $1.15 billion, to foreign institutional investors (FIIs) and some domestic mutual funds, said a person with knowledge of the matter.
The FIIs that took part include Societe Generale, Blackrock, Norges Bank and Fidelity Investments, while domestic mutual funds that participated included Axis Mutual Fund, HDFC Mutual Fund, SBI Mutual Fund and ICICI Prudential Mutual Fund, according to the reports in Live Mint.
13 years of Resistance is broken! Bharti Airtel is all set to make the next big bull run. The stock has recently crossed it multi year resistance level of Rs.550 levels and closed much above that.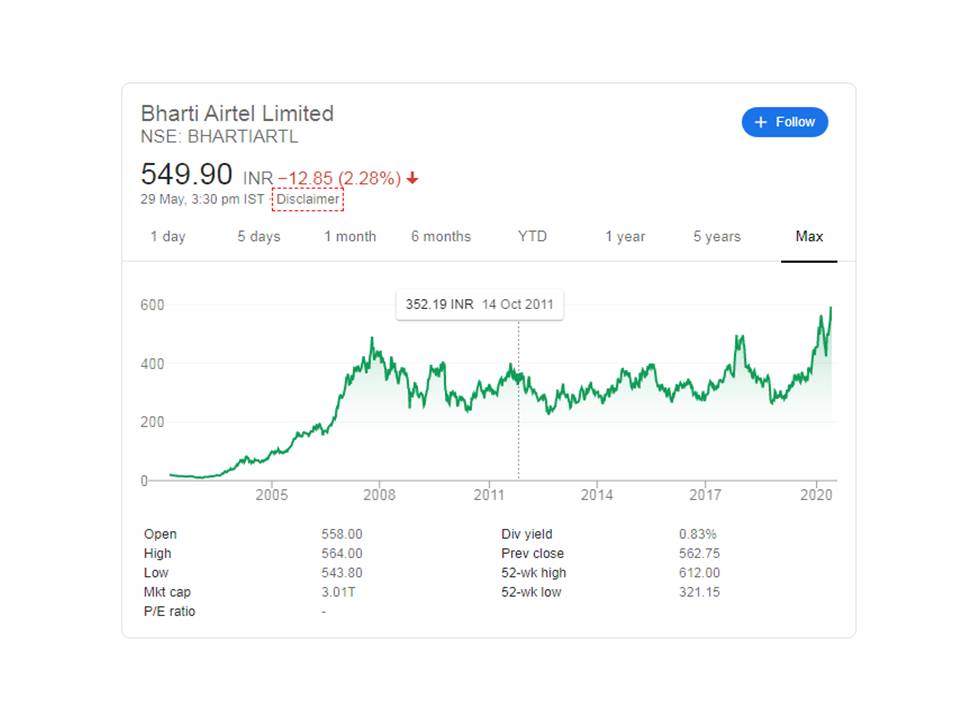 Stocks when stuck in consolidation phase for a long time, and when it comes out of that range, it can make explosive move. After stuck in range for 13 years, the stock finally broke it resistance and marching upwards and making new high. Its a sign of extreme bullishness.
After the recent Reliance Jio — Facebook tie up, Reliance Jio is raising billions of dollars capital by selling its stake to various entities like Atlantic Capital, Facebook and Microsoft. Mukesh Ambani is betting big on Jio now, he realized data is the new oil. By introducing Reliance Jio years back with aggressive pricing plans, he almost destroyed every player in the Telecom industry. But Airtel is not the player which would leave its position so easily. Airtel promoters offloaded 2% stake for billions of dollars.
Once upon a time we had many mobile operators like Hutch, BPL, DOCOMO,AIRCEL etc, which failed to exist. Idea-Vodafone is struggling after merger, they couldn't sustain, have huge debts, After Jio disruption, best telecom mobile operators are the one who will survive.
Since Bharti Airtel is the only other survivor, industry experts are expecting something big from Airtel. It recently entered into arrangements with the Nodwin Gaming to provide gaming services to its subscribers.
Singtel, South East Asia's largest telecom company, is effectively the largest shareholder in Bharti Airtel, had to make provisions in its full-year results in relation to the Indian telco making payouts for spectrum charges and licence fees.
Stock price always moves based on anticipation of whats going to happen in near future. And we all know what happen to Reliance when it moved out of its 8 years consolidation range, made almost 200% after the multi year resistance range is broken.
Suddenly there is action in the once-dead telecom sector because the global tech giants are investing significant dollars in the telecom companies like Reliance Jio and Vodafone-idea (?).