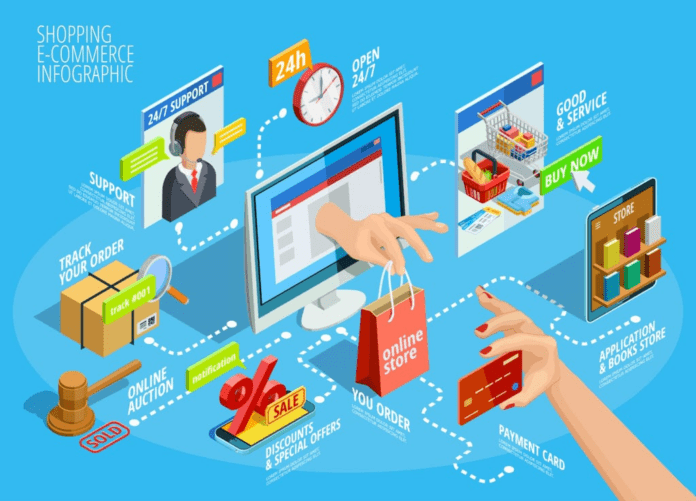 E-commerce is a big domain which encompasses various aspects other than just a website. You can surely watch tutorials on blogs or forums. These are available on platforms like shopify, wix etc on how to build a website to get a basic understanding but that's just a small part of e-commerce.
Every category has it's own demands and requirements from the customers and each company and brand works a little bit differently to others that sets them apart or keeps their customer loyal to them. These are terms of trade or norms that one can learn only from hands-on experience in the industry.
Customer acquisition, customer service, eCommerce marketing and re-targeting, analytics, and of course social media is the technical side of eCommerce. This only comes after you have covered and decided on your business model, your product, your target customers or demographics, sourced vendors, negotiated prices and put your pricing structure in place.
This is something that can't be taught in a class-room. This comes with experience and working in the industry in various categories like apparel, footwear, homewares, technology, FMCG, food and wine etc.
Frauds and Financial Crimes
There is a very important factor that an eCommerce company needs to keep in mind. Financial crimes are becoming rampant in the eCommerce sector.
The world has increasingly become digital with each passing day. Everything happens in the online space – be in shopping, finding essential services, banking, working out, and more. However, while this might sound like a perfect world, it's not all rosy. Because convenience comes with the increased crime rates. Just because something is happening online, doesn't mean that the digital world is immune to frauds and outside attacks.
Certified eCommerce Frauds Specialist
When it comes to online shopping or ecommerce websites, a lot of frauds continue to happen in that space. This is a professional certification but is not full time. In order to help those who want to specialize in this branch of crime, Indiaforensic has launched a new specialized e-learning certification program for all those aspirants who are interested in understanding the nuances of ecommerce frauds and crimes. For the finance graduates looking to enter into the eCommerce space, this program is a good starting point.
The course is offered in the video learning mode and the total length of training program is more than an hour. There are assignments to be completed after the video learning sessions are completed. Students also need to take up the examination in ecommerce frauds to be certified as the ecommerce frauds specialist. This course takes the commerce students closer to taking up career in forensic accounting.
With the ongoing COVID-19 pandemic, ecommerce frauds are even more on the rise. Thus, this makes for the perfect time to get a certification to prove one's expertise in this matter. On successful completion of the examination with 75% of marks, students are eligible for Certification. Participants who complete the course get benefits like:
A certificate of completion that proves their commitment to protecting their institution from financial crimes with their robust understanding of ecommerce frauds
3000 credit points to keep them on track towards financial crimes certification.
Course includes the topics on various schemes of frauds such as clean frauds, auction frauds, sales and marketing related scams and other topics.
More information on this course is available on the website of Indiaforensic
Click on the above link and Use the coupon code NEWSINT001 to get the 30% discount on the registration fees.