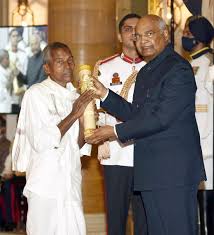 How many of us, if earning just Rs.150 a day, would even think of starting a school, that too, when we have never been to school? 68-year-old street fruit vendor Harekala Hajabba, received a Padma Shri award for starting a school in a village near Mangaluru, Karnataka. Hajabba who sold oranges at Mangaluru bus depot since 1977 has never been to school. The desire to start a school came to him in 1978 when a foreigner asked about the cost of oranges. As he could not speak English, he decided to start a school in his village. His dream came true after 2 decades & the school started with 28 students. Now 175 underprivileged students study in his school till Class 10. He wishes to set up a college on the same premise as most discontinue after Class 10. He earned very little to start school. But, his determination to educate others drove him to succeed.
Read: Is your excuse a half-truth ?
What we learn here: There is a popular myth that you need to start with a large sum of money to create wealth. This is clearly not the case & is similar to the above story wherein if one has purpose, perseverance & patience (3Ps), the goal can be achieved. Hajabba never went to school but started school. Here too you need not be a financial expert but need to find the right people to support your cause like a good financial advisor. Even if you save Rs100 per day or Rs3000 pm, your SIP has the potential to touch Rs9 crore by the end of your career in 40 years assuming you step up by 10% pa & assume a return of 12% pa. Remember that every success is built on the ability to do better than good enough.
A good Finical Advisor Hold your hand to achieve your financial goal using small steps in Investing rather than jump in Crypto currency trading.