We are living in the age of media convergence where audio, video and text have come together across internet-driven platforms such as mobile telephones, laptops, tablets and OTT (Over-The-Top) broadcast. Add to this the world of social media where Facebook, Twitter, WhatsApp, Instagram and other platforms have become another powerful stream for the dissemination of mass media content.
Media houses that used to run standalone newspapers or TV stations now have newspapers, TV stations, FM radio stations and websites, all with convergence technologies. All of them have mobile apps which are extremely popular because of their convenience. The BBC, for example, presents short news videos of one to three minutes duration and this is a part of their daily news package.
Thousands of OTT-based programmes and individually-run shows now exist offering a variety of content because the production and broadcast technology has become affordable. Everyone cannot become a journalist because journalism requires the rigour of fact-checking, accuracy in reporting and analysis. However, everyone can certainly produce mass media content in their own areas of expertise which is what is happening the world over today.
Revive Film Division
Given this huge opportunity and demand for fresh, creative media content, media training schools have been offering a range of new skillsets to students to prepare them for the future. At the same time, a number of new media schools have been mushrooming to offer regular and short-term courses in mass media production.
It is therefore extremely ironical and tragic that the Government of India has decided to downsize and virtually close down the seven decades old Films Division (FD)- a short films production house of the Ministry of  Information and Broadcasting (I&B).
This establishment, headquartered at Peddar Road (Mumbai) with branch offices in Delhi and other cities. It was once the world's second-largest producer of documentary films. It has an archive of 8,000 films in multiple Indian languages made in its 74 years of history. These films are on a variety of subjects ranging from research into Yoga at Kaivalyadham, Mumbai; India's expedition to Antarctica; the aborigines of Andaman and Nicobar Islands, and the great maestros of Indian classical music such as Pandit Bhimsen Joshi and Pandit Kumar Gandharva. For the purpose of education and infotainment its used for online streaming. However, the fact is that this archive has remained under-utilized and under-valued as happens typically in a government establishment.
Renowned Film Producers
Within and outside FD these stalwarts made renouned films. It included filmmakers like Shyam Benegal, Adoor Gopalakrishnan and Gulzar to name a few. In the first four decades itself, FD documentaries won more than 1,200 awards – 1,027 of them international. Why educational institutions and others liable to watch these films for free screening online?
Last month the government announced the merger of FD and three other establishments with the National Film Development Corporation (NFDC). However, the details of what will be the future of FD is not clear. Also a number of leading professionals have written to the government protesting against this decision.
Films for National Development
In 1948, FD established in newly-independent India. It used power of films for national development purpose. The nation's first Prime Minister, Jawaharlal Nehru, and the first I&B minister, Sardar Vallabhai Patel, took the lead in giving FD its first mandate. Thus, FD made films on the construction of large dams, power plants, steel mills, government work on all. It worked on all  fronts and the history, culture and diversity of India. These short films screened in the absence of Doordarshan. Doordarshan established a few decades later.
The British Documentary Film Maker John Grierson pioneered the use of documentary films to communicate development initiatives by the Government.  Grierson promoted the idea of training people in the colonies in documentary filmmaking. It  empowered them to tell the stories of government initiatives in their own words. Mulk Raj Anand the writer supported the idea. In 1949 he said that documentary  recognized as an important form of visual education in India.
The enthusiastic government supported FD. By the mid-1960s, it was releasing three films per week and a weekly newsreel. It had a staff of 860 people with 19 directors and 14 newsreel cameramen across India. According to scholar Peter Sutoris, author of the book, 'Visions of Development: Films Division of India and the Imagination of Progress, 1948-75', "For decades to come, FD would produce thousands of documentaries and newsreels that would reach as many as 25 million Indians a week."
History of Films Division
In1948, the Film Division established. Earlier known as  – Film Advisory Board (FAB) established on July 3, 1940, under the British Raj and the Information Films of India (IFI) established in February 1943.  During World War II, Ezra Mir, who had worked as a film editor in Universal Studios, Hollywood, headed Information Films of India (IFI). He later became Producer-in-Chief of the Films Division in 1956.
Prior to main film all cinema houses showed government documentaries.The  practice  followed for many decades after independence. Cinema houses paid a weekly fee for renting the films and this constituted a major source of revenue for FD.
Training in Hollywood
The government sent FD's pioneering film makers for hollywood training.  Jagat Murari, V Ramakantha Sarma, Ravi Prakash, Mushir Ahmed and KL Khandpur were among the earliest filmmakers at FD. They were the one who received training at the University of Southern California. It was  under the Indo-American Technical Cooperation Mission.
MV Krishnaswami 'Kittu' had received training under the legendary filmmaker Roberto Rossellini at the Centro Sperimentale di Cinematographia, Rome. Mohan Bhavnani announced as the first Chief Producer of FD. At UFA Studios, Germany trained Mohan Bhavnani.
Introduced Cartoon Film Unit
In 1957, FD opened its cartoon film unit and pioneered animation films in India. Clair H Weeks from Walt Disney was appointed as Consultant to the Cartoon Film Unit under the Indo-American Technical Cooperation Mission. Pramod Pati who had studied puppet animation at the Film and TV School of Academy of Performing Arts in Prague (FAMU) and his successor GK Gokhale who was trained at the National Film Board of Canada, made a mark through their films.
In the USA, UK and elsewhere the training continued. The best training, equipment and technology throughout  provided to FD Film makers.
In 1982, the government thought that FD was incapable of filming the Asian Games in New Delhi. They wanted to give the assignment to the Russians. NS Thapa, the Chief Producer indicated that he would resign if something like that happened. The assignment finally came to FD and 49 Ariflex camera units were deployed at various positions. It included two helicopters, to cover the event. The entire staff had received training at the National Sports Institute, Patiala. An adequate quantity of Eastman Colour film was procured from Kodak.  The challenge was met head-on and Thapa was honoured with a Padma Shri for the magnificent coverage by FD.
FD's Golden Era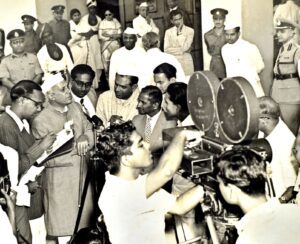 An article on the Films Division is incomplete without the mention of the multi-faceted Jehangir Bhownagary. He  worked at UNESCO as a mass communications specialist.
He had two stints at the FD: in 1954-57 as Deputy Chief Producer and later in 1965-67 when the then I&B minister Indira Gandhi personally requested him to take charge as Chief Adviser (Films) at the ministry. At FD this period marked the creative freedom and talent witnessed their best expression. This period noted the markable talent and creative freedom. The institution called it as "Golden Era".
Indira Gandhi and the then I&B secretary Asok Mitra gave a free hand to Bhownagary. In addition, there were new-generation lightweight cameras and portable sound recording equipment which gave the filmmakers greater manoeuvrability.
The Era of Outlier Directors
Sutoris says filmmakers such as Sukhdev, Shyam Benegal, SNS Sastry, Fali Billimoria and Prem Vaidya came into their own during this period and "indeed broke away from many aspects of colonial filmmaking." He calls this period "the era of outlier-directors" who "succeeded in sparking a lively debate about the role of documentary film in post-Independence India, the social unity of experimental film and the need for creative freedom in government-sponsored filmmaking."
During the Bhownagry era some films stand outstanding. They were SNS Sastry's 'I am 20', Shanti Verma's 'Radha and Krishna', Sukhdev's 'India 67', Pramod Pati's 'Explorer' and MF Husain's 'Through the Eyes of a Painter'
There were spells of visionary leadership and bursts of creative freedom under others at FD. Some of the visionary leaders were  NVK Murthy (Chief Producer, Newsreels) and NS Thapa, Chief Producer.
The Pride of India: Film Division
In July 2021, NIN Live, ran a series presented by Arjun Foundation called ' The Pride of India: Films Division' (https://www.facebook.com/newindianewsliveofficial/videos/1065957897144356/). This series featured the work of renouned  FD filmmakers. They were  Prem Vaidya, Deepak Haldankar, V Pakirisamy, Akhilesh Goorha, Mr Mahesh Sinha and others. They gave deep insights into their individual work experiences and the contribution made by FD to the nation.
Do Not Lose This Legacy of Films Division
Shall this glorious history and legacy be lost forever by downsized, merged or closed down FD? Instead, wouldn't it be wise and prudent to pass on this legacy for future generations. It would  transform the Films Division into a national and international hub. They would produce short films and training students and professionals in the art of documentary filmmaking and media convergence technologies? From such an institute the students and professionals beniffited not just from India but also from Asia and Africa. It cretaed as the next avatar of the Films Division.